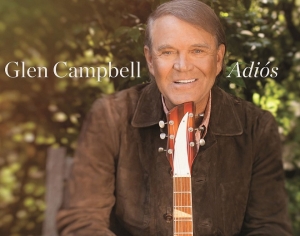 Release Date: June 9th
Glen Campbell, who was diagnosed with Alzheimer's back in 2011, is releasing his final album on June 9th which is appropriately named 'Adiós'. These songs try to capture the remaining creativeness from Campbell before his medical condition became too severe, which is why this album was recorded back in 2012.  
The album's highlights include guest appearances from Willie Nelson, Vince Gill, and even Campbell's own three children (Ashley, Shannon, and Cal).  After being diagnosed with Alzheimer's, Campbell went on a "Goodbye Tour" which featured his three children as his backing band.
One of the most memorable songs on the album is a cover of the famous 1969 Harry Nillson song, "Everybody's Talkin", which you can listen to below.  Other notable covers on the album include Bob Dylan's 'Don't Think Twice, It's All Right' and Willie Nelson's 'Funny (How Time Slips Away)' which features Nelson himself.
Track Listing
"Everybody's Talkin"
"Just Like Always"
"Funny (How Time Slips Away)" (feat. Willie Nelson)
"Arkansas Farmboy"
"Am I All Alone (Or Is It Only Me)" (intro by Roger Miller)
"Am I All Alone (Or Is It Only Me)" (feat. Vince Gill)
"It Won't Bring Her Back"
"Don't Think Twice, It's All Right"
"She Thinks I Still Care"
"Postcard From Paris"
"A Thing Called Love"
"Adiós"