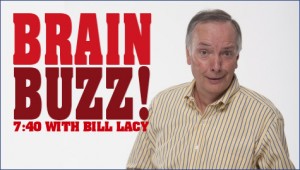 Play the Brain Buzz every morning at 7:40 with Bill Lacy.  Check out some mind-boggling questions and answers here…
The Latest Question
In America these places have 850 million visits per year. What are they?
Answer: 
Museums (that's more than our visits to major sporting events and amusement parks combined)
Winner:
Shelia Recktenwalt of West Seneca
More Recent Questions:
Q. When asked about the worst trouble they got into as a kid, 20% of men said in involved this. What was it?
A. BB Gun
Q. Over 60% of these that are purchased, are never used. What are they?
A. Swimsuits
Q. In the state of Wyoming, there are only two of these. What are they?
A. Escalators (Both in banks in Caspar)
Q. Across America, this problem happens over 650 times a day. What is  it?
A. Water main breaks
Q. Women are more likely than men to lose their cool because of this. What is it?
A. Road rage