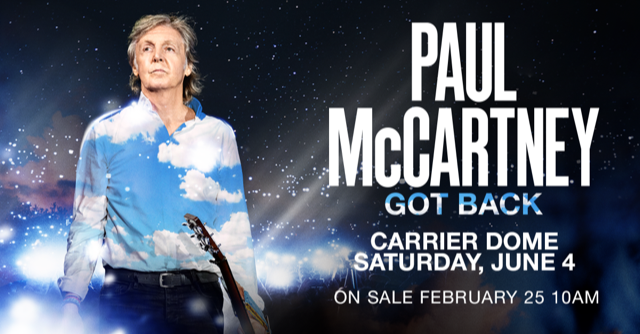 Sir Paul at Syracuse's Carrier Dome
Show Info:
On June 4, Paul McCartney gets back to Syracuse for the first time in five years, as the Beatle brings his "Got Back Tour" to the Syracuse University stadium for a live performance as part of a 13-city road swing.
"I said at the end of the last tour that I'd see you next time. I said I was going to get back to you. Well, I got back!" says Paul McCartney.
"We're delighted to have Paul McCartney return to Syracuse and know he'll give fans a fantastic show," says Vice President and Chief Facilities Officer Pete Sala, who is making this announcement for the second time in the past five years. "As I mentioned when Paul McCartney came to town in 2017, it's an honor. It's an unbelievable moment to bring him to the Syracuse University campus."
Tickets for all "Got Back Tour" dates will be on sale to the public beginning Friday, Feb. 25, at 10 a.m. (est) American Express Card Members can purchase tickets before the general public beginning Tuesday, Feb. 22, at 10 a.m. (est)through Thursday, Feb. 24, at 10 p.m. (est). For a full itinerary, check out the dates below or visit paulmccartneygotback.com.
Along with Syracuse, the "Got Back Tour" will include tour stops in Hollywood, Florida; Knoxville Tennessee; Winston-Salem, North Carolina; his first Fort Worth, Texas, and Baltimore, Maryland, shows since 1976 with Wings and 1964 with The Beatles, respectively; and his first Oakland, California, date in 20 years. The tour will also include stops in cities where McCartney has put in more recent yet no less unforgettable performances, including Boston; Los Angeles; Orlando, Florida; Seattle; and Syracuse.

"Got Back" marks McCartney's first series of live shows since his "Freshen Up Tour" wrapped in July 2019—its 39-date, 12-country odyssey concluding with a triumphant sold-out show at Dodger Stadium in Los Angeles.
The Paul McCartney live experience is everything any music lover could ever want from a rock show—and so much more: Nearly three hours of the greatest moments from the last 50 years of music, dozens of songs that have formed the soundtracks of our lives. McCartney and his band have played an unparalleled range of venues and locations: outside the Coliseum in Rome, Moscow's Red Square, Buckingham Palace, the White House, a free show in Mexico for over 400,000 people, the last-ever show at San Francisco's Candlestick Park where The Beatles played their final concert 1966 and even one performance broadcast live into space.
The show features Paul's longtime band—Paul "Wix" Wickens (keyboards), Brian Ray (bass/guitar), Rusty Anderson (guitar) and Abe Laboriel Jr (drums)—and constantly upgraded state of the art audio and video technology that ensures an unforgettable experience from every seat in the house, a Paul McCartney concert is never anything short of life-changing.